2 minutes reading time
(351 words)
Matrix Group Adds Two New Members to Team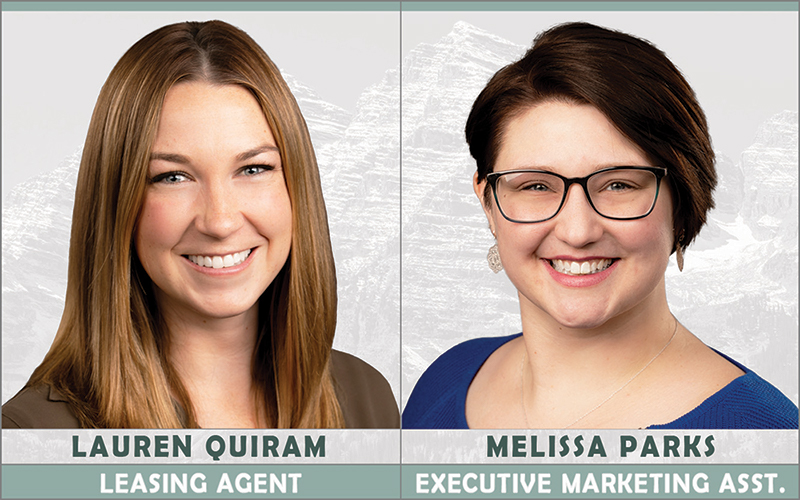 Matrix Group, Inc. proudly announces the addition of two employees to their team. Lauren Quiram joins us as Leasing Agent, handling all leasing transactions for Matrix's diverse portfolio. Melissa Parks comes on board as Executive Marketing Assistant, heading up all of Matrix's marketing efforts, assisting the President, and contributing to company-wide process improvement projects.
With leasing and marketing departments walking hand-in-hand, these two team members collaborate almost daily to enhance the creativity and effectiveness of Matrix Group's brand and voice. With both of them having backgrounds in marketing, they are able to work together seamlessly to unify the company's vision in a new and exciting way.
Lauren Quiram came to Matrix Group from Transwestern, where she was an associate broker on the Denver Capital Markets team. In this position, she worked with her team to strengthen new business development, finalize sales transactions, gather market research and analysis, create marketing materials and develop marketing campaign strategies. Lauren maintains a real estate license in Colorado and Washington and is a member of the National Association of Industrial and Office Parks (NAIOP) Developing Leaders. Born and raised in Boulder, Lauren received a Bachelor of Arts degree in Communication from the University of Colorado Boulder.
Prior to Melissa Parks joining Matrix Group, she worked as marketing coordinator for Pike National Bank, a community bank in southern Mississippi. During her five years there, she worked with the Strategic Marketing Committee to develop and implement the marketing program for the bank. Melissa received a Bachelor of Science in Communication from Mississippi College in Jackson, MS. After a vacation to Colorado, she fell in love with the beautiful landscape and laid-back mentality of Coloradoans and decided to move here permanently. She arrived with her family just prior to her start with Matrix Group.
With twenty-five years in business, Matrix Group has learned to balance traditional values of professionalism and building relationships with the forward-thinking strategies of evolving to maintain a fresh, modern perspective to business. We are excited to bring on these two new creative team members who add fresh perspective and friendly professionalism to our team.
By accepting you will be accessing a service provided by a third-party external to https://www.matrixgroupinc.com/