2 minutes reading time
(498 words)
We're at it Again! Matrix Group Announces Property Mgmt Promotions, New Hire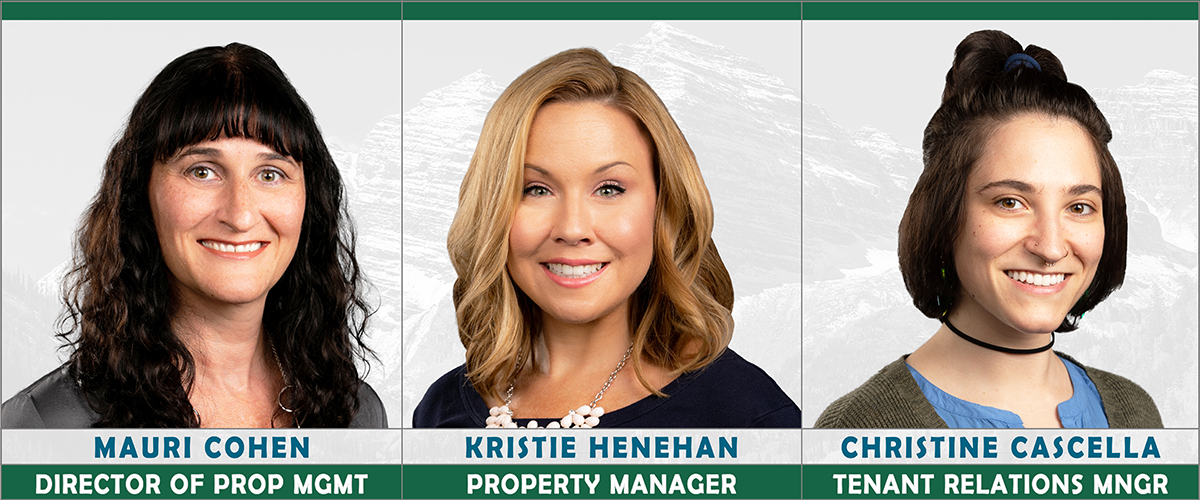 Matrix Group, Inc. (MGI) is excited to announce the restructure of our Property Management department. Mauri Cohen has moved to the role of Director of Property Management, after serving since 2014 as Property Manager for MGI. Following her shift in role, Kristie Henehan moved from Assistant Property Manager to Property Manager. In addition, MGI welcomes Christine Cascella to our team as Tenant Relations Manager.
This dynamic trio handles all things property management, juggling coordination between all of our internal departments, plus the tenants and vendors at each of our eighteen properties. With such a magnanimous job at hand, we trust these three ladies in their respective areas of experience to keep everything running smoothly at all times.
As Director of Property Management, Mauri oversees the Property Management department and works tirelessly to ensure the financial performance and tenant satisfaction of MGI's properties. She brings to the table over fifteen years of experience in property management for both residential and commercial properties. Mauri was born and raised in Colorado and earned her Bachelor of Science in Journalism and Advertising at the University of Colorado in Boulder. In her spare time, Mauri enjoys live music and unique dining experiences and spending time with her Great Dane, Sid Vicious.
In her role as Property Manager, Kristie Henehan serves as a point of contact for all of our vendors and coordinates with tenants, MGI employees, and vendors for property and tenant improvement projects. Kristie is a pro at property management after thirteen years of experience and earning her Real Property Administrators (RPA) designation and Colorado real estate brokerage license. She hails from Chicago but has loved every minute of life in Denver since moving here in 2006. When she's not working, Kristie enjoys spending time with her family, especially trying out Pinterest crafting projects with her daughter.
Christine Cascella joins MGI as Tenant Relations Manager, devoting her time to assisting tenants at all properties owned or managed by Matrix Group. Before working at MGI, Christine served as Assistant Property Manager and Tenant Relations Advisor for Port Property Management in Portland, Maine. After receiving a Bachelor of Arts in English from the University of Vermont, Christine attended the Auguste Escoffier School of the Culinary Arts in Boulder, where she discovered her passion for Colorado. She gratefully moves back to our beautiful state, where in her spare time she enjoys baking and hanging out with her cat Winona.
Matrix Group has been in business for 25 years, and the restructure of our Property Management team is just one example of the ways we stay at the forefront of innovative commercial real estate solutions. For more information on Property Management and the other services we offer, click here. MGI is grateful to our team members for being the creators of our innovation and inspiring us to deliver excellent experiences to our tenants at the same time. To learn more about these and our other team members, visit the Our Team page on our website.
By accepting you will be accessing a service provided by a third-party external to https://www.matrixgroupinc.com/