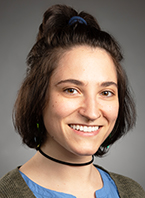 Christine Cascella
Tenant Relations Manager
Christine Cascella joined Matrix Group in 2019 as Tenant Relations Manager. In this role, Christine serves as the main point-of-contact for current tenants at properties owned or managed by Matrix Group. This includes receiving incoming tenant requests, initiating processes, and maintaining communication with all involved parties throughout the duration of the process to ensure that we provide an exceptional level of customer service. Christine's calming nature and ability to handle multiple tasks simultaneously allow her to ensure all matters under her purview are completed efficiently while building relationships with Matrix Group tenants.
Christine recently moved to Denver from Portland, Maine, where she worked as an Assistant Property Manager and Tenant Relations Advisor for Port Property Management. She earned a Bachelor of Arts in English from the University of Vermont before attending the Auguste Escoffier School of the Culinary Arts in Boulder. Though she developed a passion for Colorado during this time, after graduating culinary school she returned to the East Coast for several years before calling Colorado home again.
In her spare time, Christine enjoys baking, bike-riding, and hanging out with her cat Winona.