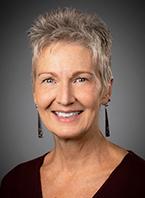 Christine Geissbuhler
Office Manager
Christine Geissbuhler serves as the Office Manager of Matrix Group, Inc. She joined Matrix Group in 2014 after fourteen years in health services office administration and patient relations.
Christine grew up in Lakewood, CO and graduated from Colorado State University majoring in Mathematics with a minor in German. She joined the MITRE Corporation as a systems engineer and later worked at the FAA Technical Center near Atlantic City.
Christine returned to Colorado in 1987 as a systems engineer/analyst for CTA Inc. & U S West where she worked in areas such as user-system interface design and technical training associated with air traffic control, simulation and telecommunication systems.
When she's not working, Christine loves spending time with her husband of 24 years and their cat. She especially enjoys the arts (fine arts and crafts, music, theater, dance and cuisine), nature, travel and a good comedy or adventure movie.