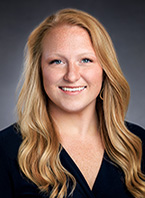 Jody Carlile
Marketing & Leasing Assistant
Jody Carlile joined the Matrix Group team in 2021 as the Marketing & Leasing Assistant. She is responsible for executing all marketing efforts, in addition to helping with all leasing transactions within Matrix's diverse portfolio of industrial, retail, and office spaces. Jody's creative skillset brings a unique vision to the team, whether this includes helping a client envision a suitable space or publishing our next social media post.
While Jody was born and raised in Indiana, she holds a Bachelor of Arts degree in Communication from Flagler College (Florida), with a focus in Public Relations and Fine Art. Since undergrad, Jody has maintained extensive work in marketing roles amongst varying industries. Before joining Matrix Group, she explored over 2 years of residential real estate experience as part of small teams at companies like Coldwell Banker and Keller Williams. Today, she is a licensed real estate broker in Colorado.
In Jody's free time, she's an active member of Volo Sports, both on and off the field. She also enjoys cooking, exercise, catching up with friends, traveling, and watching movies.