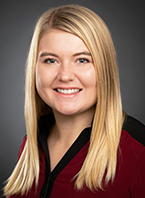 Maggie Smith
Property Manager
Maggie Smith joined Matrix Group as Property Manager in October 2019. In this role, she is responsible for the day-to-day management for our properties located primarily in the metro Denver area. As a Property Manager, she makes herself readily available for the tenants to ask the important questions. She communicates effectively by building and maintaining strong relationships with our tenants. Whether tenants have questions regarding their leases, how to pay rent, or need to report a maintenance request, Maggie is knowledgeable in order to provide up-to-date information to our tenants.
Born and raised in Denver, Colorado Maggie knows the area well & has seen how the real estate market has changed over the years. Prior to joining Matrix Group, Maggie worked for a vacation rental company helping to manage properties and solidify reservations across the US. She received a Bachelor of Science in Business Management from Colorado State University in Fort Collins and is also a licensed real estate broker in Colorado.
In her spare time she enjoys camping, cooking, sports, and spending time with family and friends. During the summer months Maggie enjoys playing in the 4x4 grass volleyball leagues.