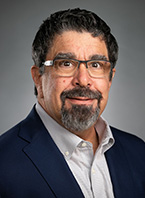 Michael Migues
Executive Director of Operations
Michael Migues, Matrix's acting Executive Director of Operations, joined our team December of 2020. He is responsible for the day to day management and operations of the company.
Michael graduated from the University of Texas in Austin, with a degree in Finance, and then went on to receive his law degree from the University of Houston. Michael is licensed to practice law in both Texas and Colorado. He studied and practiced real estate law prior to his involvement in real estate management. Michael has maintained a managerial focus since 2000, and has been entrenched in the real estate industry for the last 26 years.
Though Michael grew up in Houston, he has spent the last twenty years calling Colorado home. Since he has been in Colorado, he has worked in both local and institutional real estate firms all over the state. His background in law, in conjunction with his 20 years of real estate experience allows him to offer an incredibly comprehensive knowledge base. He works through situations thoroughly yet effectively, while maintaining an accessible and level demeanor.
Michael's history in the real estate industry and experience in leadership roles are invaluable to the Matrix team. Outside of the office, he enjoys spending time with his family. He has a wife, two young daughters, and an adult son.