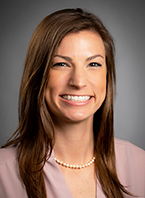 Natasha Zomcik
Asset Manager
Natasha Zomcik serves as Asset Manager for Matrix Group. By working with various members of the Matrix team, Natasha maximizes the performance and value of the portfolio by formulating and implementing long-range asset management strategies. Overseeing capital and tenant improvement construction projects, she uses her natural drive and motivation to deliver a polished finished product and to ensure projects run smoothly from start to finish.
Natasha joined Matrix Group in 2014 as Executive Assistant to John Webb. Her background in environmental science and office administration allowed her to quickly move to Assistant Asset Manager in 2017 and then Asset Manager in 2018.
Natasha grew up in Atlanta, GA and graduated from Georgia Southern University with a Bachelor's of Science in Political Science. After graduation, she joined Environmental Planning Specialists, Inc. as a staff scientist and administrative assistant, gaining experience conducting Environmental Site Assessments and Phase I & II. Later, Natasha served as Executive Assistant to the CEO of the non-profit Mary Hall Freedom House.
Natasha moved to Colorado in 2014 to take advantage of the beautiful scenery and active lifestyle Denver has to offer. When she is not working, Natasha loves hiking, camping, skiing, travelling, cooking, and spending time with family and friends.