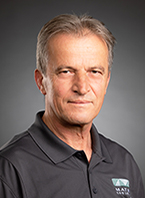 Sead Telalovic
Maintenance Technician
Sead Telalovic serves Matrix Group as a Maintenance Technician, performing and supporting specific maintenance requirements, including routine, reactive, and proactive maintenance and repairs for all properties owned or managed by Matrix Group. Sead's years of previous experience and positive attitude ensure that he accomplishes whatever tasks are set before him while building relationships with Matrix Group tenants.
Prior to joining Matrix Group in 2019, Sead has served in a variety of roles within the construction and maintenance industry, including Production Manager, Project Manager, Estimator, Safety Manager, Quality Control Manager, and Master Carpenter, as well as providing support in Facility Maintenance, Sculpting – Art Relief, and Inventory Control.
When Sead is not working, he enjoys spending time outdoors, especially fishing and boating. He also likes watching sports, playing games, and listening to music.