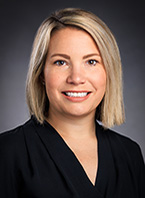 Shannon Walter
Controller
Shannon Walter joined the Matrix Group Team in 2022 as the Controller. In this role, Shannon is responsible for all accounting and finance related functions of the company and enjoys being in a hands-on role while interacting with the close-knit team at Matrix.
Prior to joining the Matrix Group, Shannon held positions at Spartan Investment Group and Cardinal Group Management where she further developed her real estate and property accounting skills. Shannon has participated in multiple software implementations in past roles and is eager to help Matrix Group adopt the Yardi Property Management Software. Shannon started her first accounting job with Marriott Hotels, working in Denver and Seattle. Since then, Shannon has enjoyed time at a medical device retailer and has, in the last several years, focused on real estate accounting.
Shannon holds a bachelor's degree from Lenoir Rhyne University where she double majored in Accounting & Finance. Born and raised in North Carolina, she packed up and headed west after college, landing in Denver where she doesn't mind the absence of mosquitoes or humidity. In her free time, Shannon enjoys time with family and friends, trying new restaurants, traveling, finding new bookstores, and endlessly looking at houses on Zillow.