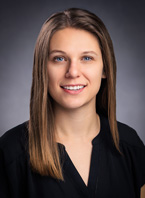 Ty Depies
Property Administrator
Ty Depies joined Matrix Group as a Property Administrator in September 2022. In this role she is responsible for providing support to the Property Management Team, maintaining vendor and tenant relations, and ensuring the office runs smoothly.
Ty moved here from Milwaukee, WI to take advantage of a more active and outdoor way of life. She earned her Bachelor's degree from UW-Milwaukee in Marketing as well as a Real Estate Certificate. Prior to joining Matrix, Ty worked in residential property management as well as residential real estate before deciding to make the switch to Commercial.
In her free time, she likes to hike, garden, play volleyball, explore Denver, see concerts, and play with her cat.