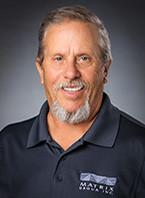 Vince Naughton
Maintenance Technician
Vince Naughton joined Matrix Group in 2022 as a Maintenance Technician, performing and supporting specific maintenance requirements, including routine, reactive, and proactive repairs for all properties managed by Matrix Group. Vince's friendly, easy-going demeanor allows for him to seamlessly hop in on a task and successfully complete projects with others.
Born and raised in North Denver, Vince started working construction upon graduating high school. First, he learned rough carpentry under an older brother's critical eye, teaching him the importance of sufficiently completing a job the first time. This experience led to remodeling houses, where Vince furthered his education in finish carpentry and historical rehabilitation. Eventually, Vince's extensive work earned him many years as a Fire and Water Restoration Tech Lead. However, since the recession, Vince has been diligently dedicating himself to Building Maintenance.
In his free time, Vince enjoys fishing, hiking, and relaxing in the mountains at a cabin him and his siblings built, called Six Dog Ranch.